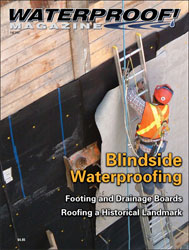 Blindside Waterproofing
Occasionally, waterproofing and drainage membranes have to be applied before the below-grade structural wall is built. Here are the products and techniques the experts use.
» Read the complete story here «
---
Project Profile:
Roofing a Historical Landmark
The 140-year-old Salt Lake Tabernacle needed a new roof. The challenge was that it is one of the most complex—and famous—roofs in the country. Having the congested jobsite right in the middle of Utah's most visited tourist attraction added another degree of complexity.
» Read the complete story here «
---
Footing and Drainage Boards
The key to ensuring a good, waterproof basement depends as much on the drainage system as the waterproofing membrane itself. Drainage boards relieve hydrostatic pressure by directing water to the base of the structure. Footing drains remove that water away from the building.